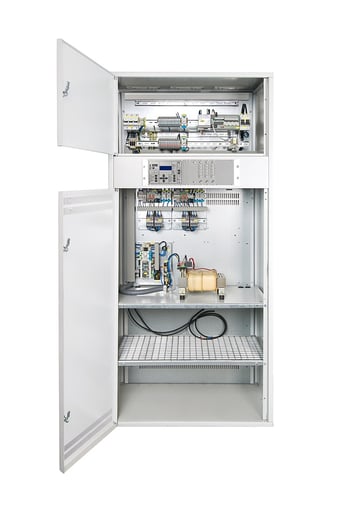 Each and every metal enclosure project is started with the seed of an idea to solve a particular problem. For example, consider this situation: you must help design a metal enclosure for an oddly sized and sensitive machine that must stay contained in a hazardous location, which will include moisture and exposure to high temperatures.

After dozens of metal enclosure projects, CAMM Metals has the experience necessary to develop uniquely efficient designs that meet a wide variety of distinct requirements. From the enclosure design and material selection to the chosen process and the quality of the equipment, every step is critical. So if you're looking for an enclosure to protect your pristine electrical equipment, take a few moments to consider how your preferred company is manufacturing metal enclosures.

Regardless of situation, fabricating metal enclosures requires top-notch quality materials, state-of-the-art equipment and expert technicians. Continue reading this post, as we discuss several tips to help ensure your next metal enclosure fabrication project is a success.

Weight Concerns
It's important to make sure that the enclosure can handle the weight of the equipment that will be mounted. While many machines are typically lightweight nowadays, if you are mounting test equipment into a cabinet rack, will the rails and also the casters hold the weight that you need within the enclosure? Take some time to check the load characteristics before the design is finished. If you are designing a smaller enclosure, weight load is critical to ensure that you are not attempting to load more components than the box can handle.
Consider Possible Modifications
When you're requesting a quote, be sure to ask the fabricator to consider future modifications. Typically enclosures will require holes or slots for input and output, and other alterations to make them usable. Be sure to discuss these modifications ahead of time to reduce the likelihood of misalignment or other areas.
Are You Using the Proper Materials?
There's a wide variety of materials available for enclosures, with each having its own inherent advantages and disadvantages ranging from price to durability. If safety is paramount, price shouldn't be the only driver, rather, longevity and security should be the focus. Other material factors include the product weight (if the product is supposed to be portable) and finishing options if the product will be used in a visible location.
Ensure Prospective Companies Have The Right Equipment
Computer Numerical Control (CNC) Laser Cutting: If you're planning on needing a larger enclosure, it's important to find a fabrication company that owns a machine which can accept the sheets needed for the enclosure's production. A laser cutting machine can cut blanks with virtually no set-up time required, unlike most alternative methods.

Press Brakes: CNC press brake machines work to form blanks (which are cut using a laser press) into parts to be used for the metal enclosure. Ideally, the press brake operator will have quick set-up tooling to allow for quick, streamlined set-ups, forming complex parts with a high level of accuracy.

Welding: There are some metal enclosures that require MIG welding, while others will require TIG welding. Look for a company with welders who are certified to AWS standards. Of course, after welding, a debar process will be performed to clean up the edges of the metal.

Metal Stamping: Metal stamping presses can be key for when small projects increase in volume, as they allow the manufacturer to stamp the parts. Metal stamping machines are important for offering cost reductions— look for a metal fabrication company who have strong stamping presses that are equipped with automatic coil-feeding equipment and controls for die protection.

Powder Coating: Powder coating is one of the final steps necessary for protecting a metal enclosure. CAMM Metals can offer powder coating in a wide variety of colors and textures to improve your enclosure's aesthetics. Look for a company that has many popular colors and textures available in stock to hasten the lead time.
CAMM Metals | Metal Enclosure Fabrication Projects in CT
If you're seeking a company with the skills and equipment necessary to manufacture premium metal enclosures, look no further. CAMM Metals expertly-trained team of technicians adheres to the latest manufacturing principles. Give us a call at (860)-292-6260 to learn more or request a free quote online.