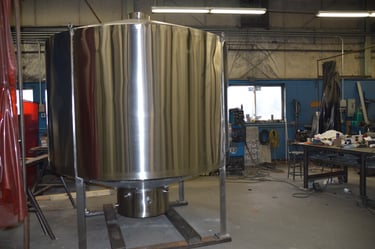 Many beer fans might assume that beer tanks are coming out of some factory or huge company (or they may not even think about it all). However, the truth is much more interesting. Here in Connecticut, as a premier metal fabrication company, we have worked to service the demand for malt/beer tanks that are better welded for brewing than the typical options on the market.

For many breweries, a tank is a tank. Many tanks are stainless steel cylinders with cone shaped bottoms, imported cheaply from China; yet, there's growing demand from some brewers who want to go above and beyond the typical brewing fare.

At CAMM Metals, we're proud to have worked on the construction of a malt/beer tank. Our beer tank project required us to use every skill, tool, and technique at our disposal. From the start, the project required 3D Engineering, Waterjet Cutting, Sawcutting, CNC Machining, Bending and Rolling, Welding and Weld Inspection, Assembly and Finishing.

Continue reading to learn about the processes involved in the custom creation of a malt/beer tank and be sure to check our blog frequently for more project spotlights!
3D Engineering

Before this beer/malt tank became a reality that people actually use on a daily basis, it started out as an idea in one 'erons head. In order for that idea to become an actual, real world, physical object, a clear plan for how to create that object, right down to precise measurements, must be created to a format that other people can read so they can follow those directions. That's where 3D Engineering came into play.
CAMM Metals worked with the customer who provided a fully engineered design of the beer/malt tank. CAMM Metals was then able to break down each component for ease of manufacturing. One of our driving philosophies is to maximize functionality and minimize technology, providing you with exactly what you need to get the job done as efficiently as possible. We concentrated on budilding a stainless steel tank that will be make it easier to brew good beer. Our in-house engineering department can help customize your tank design to meet your specific facility and process needs.
Waterjet Cutting
Waterjet cutting is an extremely precise and reliable technique. Using a powerful 50k psi stream of water that cuts cleanly and evenly, water jet cutting provides extremely accurate cuts with a high degree of repeatability over a wide range of materials and endless shapes and configurations. On this project we used waterjet cutting to cut all of the thin sheet and thick plate parts required for the beer tank. Waterjet cutting left all of the edges clean and provided quality edges for welding.
Forming
We used a variety of bending and forming techniques on the beer tank. First, we used traditional CNC Press Brakes to make the straight bends. But as you can see, there are not many straight surfaces here. To achieve the round and conical shapes, we had to both roll and bump form the radiused and conical shapes. All of these bent, rolled and formed pieces had to but up to each other with a high degree of precision so that our welders could achieve a leak proof tank.
Welding & Weld Inspection

Welding was used through this project to join together the disparate pieces of metal.The difference between joints and attachments welded by a craftsman and those by amateurs are visibly noticeable. Without a professional welder, it's likely that you would notice ridges, crevices, imperfections and weak points that eventually lead to contamination, corrosion, and product failure. All welds performed on commercial beverage parts and equipment should be of the highest quality so they support and uphold the integrity of the equipment rather than detracting from it. Of course, after the necessary welding was completed, the product underwent strict welding inspection as there can be no leaks with a container designed to hold liquids.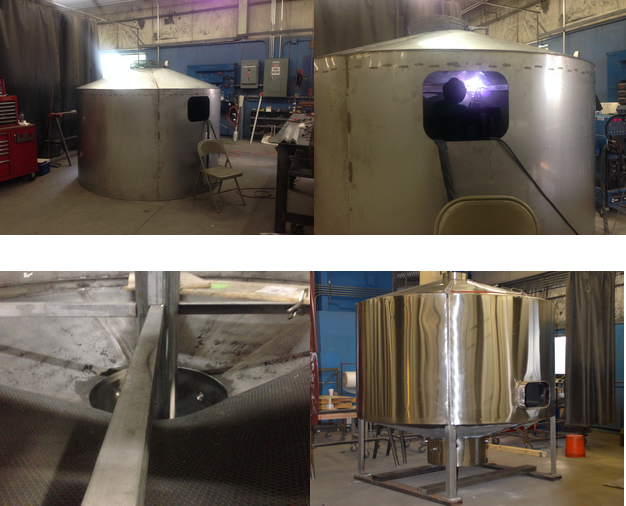 Challenges Associated with Custom Fabricating Beer Tanks (And Other Beverage Equipment)
Obviously, design serves a critical role in both the efficiency of the equipment as well as the frequency of related malfunctions, hazards, or production challenges. Here are some of the challenges associated with metal fabricating food and beverage grade equipment:

Upholding Best Design Specifications for Beverage Equipment
Wherever you are working with food or beverages, contaminants pose a serious risk. Here are some of the basic rules-of-thumb associated with stellar beverage equipment:
Smooth, non-porous surfaces that are easy to clean and less apt to trap bacteria and other contaminants
All parts and areas of equipment should be easily accessible for cleaning and maintenance

Surface materials should be non-corrosive and non-absorbent

Should never involve the use of lead or lead solder

Using Quality Stainless Steel Products
Stainless Steel is a common item used to construct the majority of beverage equipment, due in part to its affordability, durability, and cleanliness and ease of maintenance. Unfortunately, not all stainless steel is made of the same quality. Many countries outside of the US do not have the same production standards as the US and are known to produce low-quality stainless steel which is notoriously difficult to clean and can even show surface rust which makes it more likely to corrode over time. US made, domestic stainless steel lasts longer, performs better, prevents corrosion, and streamlines cleaning and sanitation procedures.

CAMM Metals | CT Metal Fabrication Company
Liquid storage is a unique challenge in the food industry. Space is almost always at a premium and regulation of the equipment can create a problem for many manufacturers and business owners. CAMM Metals can help navigate and resolve problems from our years of experience creating innovative solutions for metal fabrication. It's crucial to do your research when choosing a metal fabrication, as not all companies are capable of completing the same quality of work. CAMM Metals has years of experience, honing our skills across the board to deliver a quality product and measurable bottom line value to our customers.