Completing a sheet metal fabrication project is a costly process. The design, the possible prototype, the actual production process, and the finishing processes all have associated fees. In addition to the work that goes in to your project, the materials themselves cost money as well. To save money, you'll need a well-optimized design and a cost-saving plan. We've compiled a list of tips that can help you save money on your next metal fabrication project.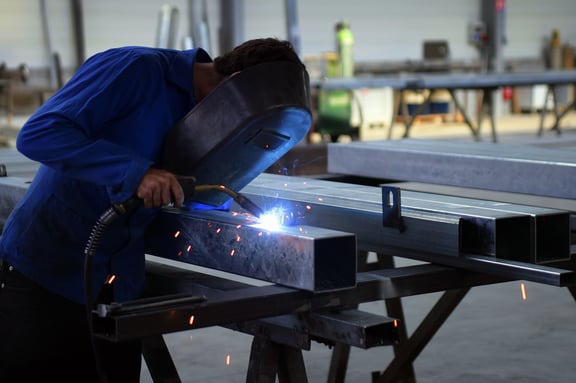 1. Utilize In-House Engineers
If at all possible, look for a metal fabrication partner who employees in-house engineers, offering design services. Typically, these engineers have specialized skills and experience specific to the fabrication process you choose. They can work to help you optimize your design through material choices and in-line processing recommendations you may not be aware are possible.
Having in-house engineers available to work on your projects adds more perspective, which could help reduce your material, production and shipping costs. Without these engineers, your project will still be completed to your specifications; however, this means that if you have any mistakes in your design, they will be apparent in the final product.
2. Choose the right material
It's important to choose the right material for your project to save money. Use the stock sizes of these materials and be sure to use the cheapest materials possible for prototypes, such as using aluminum over stainless steel. When choosing your final material, be sure to use the most affordable material that will still carry out the functions of the part properly.
3. Design to a Common Gauge
When designing your part, use standard sheet metal gauges. The constraints of thickness depend on the geometry of the part. Thicker materials might restrict achievable bends for your part. For this reason, it's important to design to a common gauge to cut costs associated with variable gauges.
4. Consider Mill-Direct Supplies
Some metal fabrication companies purchase mill-direct supplies, meaning that they are able to negotiate material costs on their client's behalf. Not only can these fabricators negotiate on better prices, but also better products. Their relationship and experience with these mills allows you to directly benefit without having to do the heavy lifting. If they buy mill-direct, this also means they have the means to buy, ship, store and process the steel.
5. Simplify Your Folds
In general, the more complicated your part is, the more expensive it will be to produce. For this reason, you should design for simple angled bends, with a radius equal to or greater than the thickness of the sheet. Small bends on large, thick parts will often be inaccurate and are both difficult and expensive to produce. When designing your part, you should aim for the simplest design that the part will allow to be the most affordable.
6. Limit the Use of Tight Tolerances
There are typically only a few surfaces of a part that are critical to its function. The more features with tolerance callouts, the more expensive it will be. Some examples of these tolerance callouts include the radii, hole diameters, and distances. For this reason, you should only assign key tolerances to features and surfaces critical to the part's functionality. When you limit the use of tight tolerances, you will create a more affordable design.
7. Maintain Uniform Bend Orientation
Maintaining uniform bends throughout your design will increase its affordability. Bends in the same place should be designed in the same direction to avoid part reorientation, which will save both money and time. Keeping a consistent bend radius will make your parts more cost-effective because they will be easier to produce.
8. Use a Local Fabricator
Proximity is the single biggest advantage that you get with deciding to partner with a local metal fabricator. It means that if you want to make sure the facilities are up to your satisfaction, it's right in the area, rather than requiring a coordinated, expensive and time-consuming trip to another part of the world in order to tour the facilities and ensure they are to your satisfaction.
A local business means that meetings are easier to conduct and coordinate, whether by phone, or an actual face-to-face meeting, which is often more productive and easier to do on a regular basis. It means you'll be able to go into much greater detail about plans and business goals, and when any sudden adjustments need to be made, or an unexpected problem comes up, solving it together is much easier to do.
All you have to do make sure you find the right partner is be clear about your goals and what materials you want to work with. Then line that up with the local metal fabricator that has the experience and the capabilities to do what you need. Done right, this can be a fruitful, long term business partnership.
CAMM Metals | CT Metal Fabrication Company
It's crucial to do your research when choosing a metal fabrication, as not all companies are capable of completing the same quality of work. CAMM Metals has years of experience, honing our skills across the board to deliver a quality product and measurable bottom line value to our customers.