For many fabrication projects, powder coating is a better option than traditional paint. It is typically the more long-lasting and flexible option, often yielding a better finish. If you're considering powder coating for your next project, you'll want to be aware of the factors in the process that can affect the cost. Read below to learn about these factors and what you can do to safe money during the powder coating process.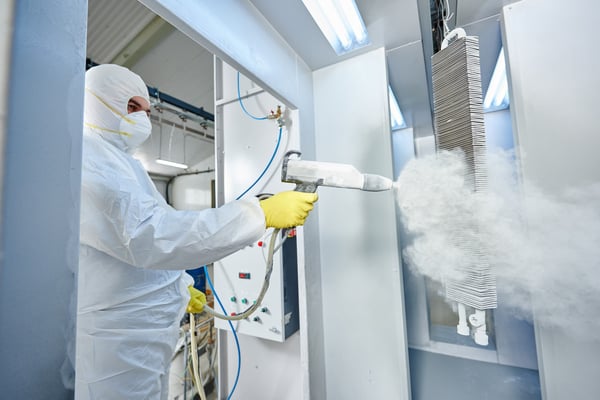 Size of the Project
One of the most obvious factors that will affect the cost of powder coating is the size of your project. The surface area of the object being covered, the type of the metal used for the project, and the volume of the overall order will determine how much powder coating you'll need. The more powder coating you need, the more it will cost.
Type of Powder Coating
Like paint, powders come in different varieties. There are powders based on polyester, epoxy, nylon, polyurethane, fluoropolymer, and more. The type of powder you choose for your project will affect its overall cost, as some types of powders are more expensive. Polyester is often the cheapest, while stronger types of powder like fluoropolymer are more expensive. Non-stick powders can be more costly, as well as specific colors that might be unusual. If you're looking to save money in the powder coating process, you can choose a less expensive powder type that will still get the job done.
Application Equipment
There are two common types of application procedures for powder coating: the tribo d design and the corona style powder coating gun. The tribo style has fewer issues with the far a day cage effect, making it a good choice for intricate products with lots of crevices. If you're covering an intricate product, the tribo style will prevent you from using extra powder to make up for issues with consistency, saving you money on extra powder.
Type of Prep/Feed System
There are two primary types of prep/feed systems for industrial powder coating: box feed and fluidized bed systems. The box feed system allows powder coating to be fed directly out of the box of powder, while the fluidized bed system requires powder coating to be placed in a stainless steel drum. When your project requires you to work in small quantities or needs frequent color changes, the box system will save you money because the powder coating is supplied directly out of a box. However, the fluidized system reduces wasted powder and is the best choice for powder recovering. For these reasons, although fluidized bed systems are a greater initial investment, they will save you money in the long term on high-volume products that require a large quantity of powder coating.
Powder Curing Options
The two most common curing methods for powder coating are infrared and convection batch ovens. Infrared have lower operating costs, but are a higher initial investment. Convection batch ovens are a lower cost to purchase, but cost more to operate on a day to day basis. If you're looking to save money up front, a convection batch oven can help, but if you're looking for the best powder curing option to save you the most money over time, infrared ovens will best suit your needs.
CAMM Metals | CT
Powder Coating Services
It's crucial to do your research when choosing a metal fabrication, as not all companies are capable of completing the same quality of work. CAMM Metals has years of experience, honing our skills across the board to deliver a quality product and measurable bottom line value to our customers.