Sheet metal fabrication is a broad term referring to cutting, shaping, and molding sheet metal into a final product. However, custom sheet metal fabrication involves a non-standard component or unique metal product of some sort. Custom sheet metal fabrication is important to the medical industry, as it can help create tools that carry out very precise and specific functions. Read below for more information on the application of this process in the medical industry.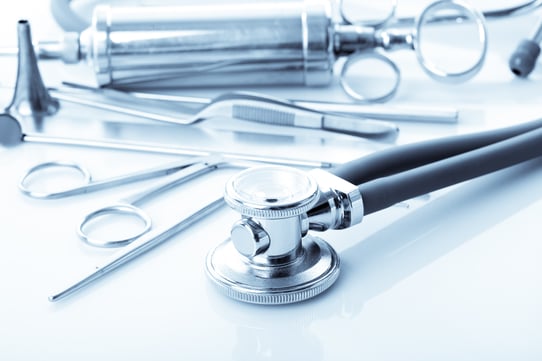 Benefits
With custom sheet metal fabrication, your fabricator can create built-to-order parts that will perfectly suit the specific needs of the medical industry. With this type of fabrication, you can be sure that the parts will be created with the utmost precision, which is especially important in surgical tools that must perform very precise actions. Custom fabrication will ensure that any tool needed to perform a specific function will be built to the exact specifications necessary.
Process
Custom fabrication includes all steps of the fabrication process. Your fabricator can help with the design of the tool in order to make sure it carries out its proper function but has a feasible design that can be properly executed. The fabricator will then build the product, using whatever custom tools and applications are necessary to create the product to its exact specifications. Finally, the fabricator will finish and assemble the product, treating it properly to ensure that there are no flaws that could compromise the function of the tool.
Tools
There are many different tools used in fabrication for the medical industry, both custom and standard. Some of the common equipment used includes:
Sheet metal brake
Sheet metal slip roll
Sheet metal shear
Welding equipment
Beveling equipment
Chamfer deburring equipment
Although the tools used for this type of fabrication can vary, these are some of the common ones used in a significant portion of fabrication projects for the medical industry.
Products
When people think about metal fabrication for the medical industry, surgical tools are the most common tool considered. However, there are many different tools that are created for the medical industry through custom sheet metal fabrication. Some of these tools include:
Medical electronic equipment
Medical devices
Medical instruments
Customized hospital beds
HVAC systems
Intricate instruments for surgeries
Sterilization cases for the orthopedic industry
Physical therapy equipment
Robotic blood sorting systems
Custom medical carts for many medical fields (cardiology, neurology, ophthalmology, etc.)
These products, among others, all utilize custom sheet metal fabrication, as they require precision and elaborate designs. In order to ensure that these tools are created precisely and accurately, it's important to find a reputable metal fabrication company capable of custom fabrication.
CAMM Metals | CT Custom Sheet Metal Fabrication
From the beginning stages of your project to sandblasting your polished product, CAMM metals can handle all of your metal fabrication needs. CAMM Metals has years of experience, honing our skills across the board to deliver a quality product and measurable bottom line value to our customers.