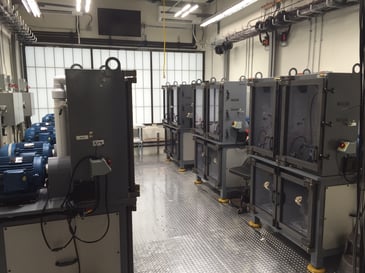 At CAMM Metals, we're proud to have had the opportunity to manufacture 18 Fuel Pump Test Stands for an Automotive industry supplier. This project required us to use every skill, tool, and technique at our disposal. From the start, the project required 3D Engineering, Waterjet Cutting, Sawcutting, CNC Machining, Bending and Rolling, Welding and Weld Inspection, Finishing and Assembly. We like to showcase the production process because the success of any project ultimately depends on good planning, coupled with an understanding of all the techniques involved and an ability to perform all of the necessary work. Continue reading to learn about the processes involved in the custom manufacture of a fuel pump test stand and be sure to check our blog frequently for more project spotlights!
Engineering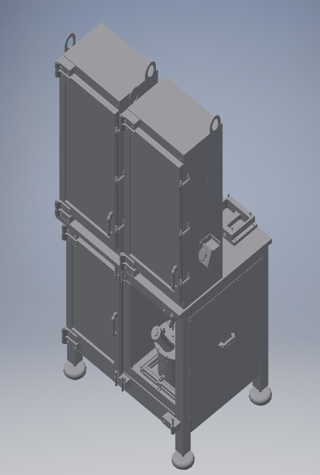 Before the test stand became a reality that could actually be used to test fuel pumps, it started out as a an engineering design. In order for that design to become a real physical object, a clear plan for how to build and assemble the 37 individual parts, right down to smallest detail, was created in a CAD format that we could work with in our facility and follow the customers specific directions. That's where 3D engineering came into play.
3D Engineering was the first step and a step that cannot be overlooked as not all shops can work with 3D CAD files. The customer supplied the 3D Assembly and using the customer drawings allowed us to ensure the quality of and fit of the fabrication by using these files to unfold all of the sheet metal parts, program the CNC Machining centers, verify material cut lengths and be sure that all 37 parts we were making would fit together after months of work making all of the parts.
Waterjet Cutting

Waterjet cutting is an extremely precise and reliable technique. Using a powerful 50k psi stream of water that cuts cleanly and evenly, water jet cutting provides extremely accurate cuts with a high degree of repeatability over a wide range of materials and endless shapes and configurations. On this project we used the Waterjets to cut everyting from the sheet metal flat patterns to the 1" steel top plate. We also used the waterjet cutting machines to rough cut some of the machine blanks and cut the polycarbonate window panels.
Fabrication

After the waterjet cutting phase was completed, we needed to use forming on the fuel tanks. We had to bend the sheet metal cabinets on top of the base. There are two main methods of forming: rolling and bending. Rolling turns flat plate into curved pieces (it's the process used for making cylindrical storage tanks and drums). On the other hand, bending puts corners into flat plate and creates components such as structural supports and brackets.The stainless steel fuel tanks inside the base had to be rolled, welded and leak checked. Many of the parts for the base were sawcut to precise lengths on our saws.
Machining
There was several stainless steel, aluminum and brass parts that were machined for this project. We also had to machine holes in a 1" x 40" x 60" steel base top with a hole location of +/-.001". All of this work was done here in our shop.

Welding & Weld Inspection

We used both MIG and TIG welding processes on this project. The base is 1,600 lbs of steel. The top is 1" thick, the legs are 3" solid square, and the rest of the frame is between 1/2 – 1" thick. We used the machining center bevel parts for weld prep and MIG welded the entire base all around. We TIG welded the stainless steel fuel tanks and sheet metal cabinets.





The talents of our welders played a crucial role in the construction of this test stand. They produced strong, high quality joints, which were accurately placed and given a clean, smooth finish. Once installed, the Test Stands had to withstand constant vibration, 24 hours a day, and the quality of the welds was critical in this application. Of course, after the necessary welding was completed, the product underwent strict welding inspection, to ensure structural integrity.
Assembly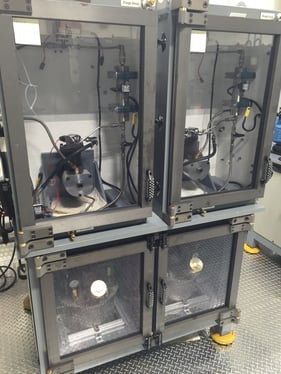 As you can see, this was a complex and nuanced project, which incorporated many of the processes that we use here at CAMM Metals. Believe it or not, this particular assembly consisted of 37 unique parts.

Before we sent the individual parts out for powder coating and anodizing, we took the time to fully assemble the test stands here in our shop. We brought in the customer to inspect the fit and function.

Performing all of the work locally in our shop allowed us to test fit parts along the way and made it easier for the customer to inspect all of the work under one roof along the way, and then we could assemble the complete unit before finishing.


CAMM Metals | Custom Metal Fabrication Projects
Custom metal fabrication projects are detailed and take intricate planning to guarantee the final results meet the project requirements. Every project goes through three distinct steps: design, build, finishing/assembly-- each step is related to the next and needs to be done right. Choosing a custom metal fabrication company with the capabilities and resources necessary to handle all phases of a project in house will ultimately reduce project risk by allowing a complete view of the entire process.

CAMM Metals can help navigate and resolve problems from our years of experience creating innovative solutions for metal fabrication.It's crucial to do your research when choosing a metal fabrication, as not all companies are capable of completing the same quality of work. CAMM Metals has years of experience, honing our skills across the board to deliver a quality product and measurable bottom line value to our customers.