CAMM Metals is excited to announce our new laser cutting services! We have officially added a Prima Power Platino Fiber Evo Laser Cutter to our facilities that is up and running. This exciting addition has expanded our overall fabrication capabilities to include laser cutting, which is one of the fastest and most efficient ways to cut metal and other materials.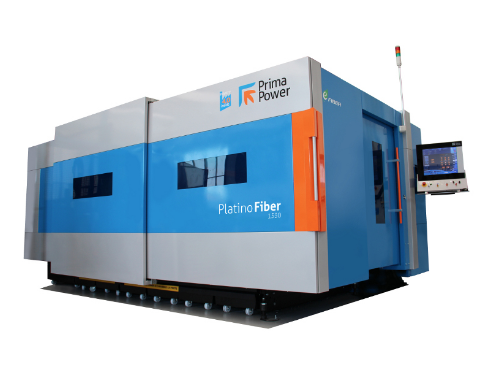 Prima Power Platino Fiber Evo
This laser machine adapts to a wide variety of applications. The SMART cut option, a heads down rapid pierce feature, allows for hyper-fast cutting of sheets up to 3/16", while reducing cycle times up to 30%. The MAX cut allows for fast laser cutting of medium-high thicknesses, reducing processing times up to 40%. The NIGHT cut allows for intensive production with higher piercing and cutting process safety.
The Platino Fiber Evo allows for high performance in cutting any thickness in range. The machine is reliable and efficient, with laser power of 3 kW. In addition to its high power and precise, efficient cuts, the machine is very green and conserves energy. It uses less energy than other cutting mechanisms and has no laser gases because of high brilliance fiber laser sources.
Prima Power's

Highlights
Prima Power has compiled this overview of the highlights of the Platino Fiber Evo laser cutter.
Prima Power fiber technology
Prima Power Fiber Laser head with adaptive collimator, equipped with single lens for cutting sheets of any material and thickness

SMART Cut, MAX Cut, NIGHT Cut to better fit your laser machine to your application




optical chain totally sealed and protected from any contamination

SIPS (Safe Impact Protection System) protecting the fiber laser head in case of crash

Quick alignment system (OPC) – high dynamics focal axis with 35 mm stroke

Wide range of nozzles for any application; an automatic nozzle change system is available on request

High brilliance fiber laser with 3kw power. Over 30% wall-plug efficiency, low maintenance and consumables.
Open and ergonomic architecture
The fiber cutting machine design grants compactness, maximum accessibility and ergonomics

Synthetic granite base for thermal stability and vibration damping
Simple and efficient CNC and software
New generation, easy-to-use Open CNC
Easy and fast off-line programming with MAESTRO-Libellula® and NC Express e3 CAD/CAM systems
Tube processing and automation
Main axes management and prearrangement for additional axes (e.g. tube laser processing)
Wide range of configurations for automatic sheet handling and storage
Advantages of Laser Cutting
We are excited to add laser cutting to the list of our fabrication services. Laser cutting is a faster and more efficient process than many other cutting mechanisms. It creates precise, consistent cuts and is highly versatile in terms of the types of cut and materials that can be cut. Laser cutters also use less energy than other cutting mechanisms, which helps us work toward becoming a more environmentally friendly. To read more about the advantages of laser cutting, click here.
Laser Cutting Demonstration
Don't just take our, or Prima Power's, word for it. Check out the demonstration of the machine in action below!
CAMM Metals | CT Laser Cutting Services
It's crucial to do your research when choosing a metal fabrication, as not all companies are capable of completing the same quality of work. CAMM Metals has years of experience, honing our skills across the board to deliver a quality product and measurable bottom line value to our customers.