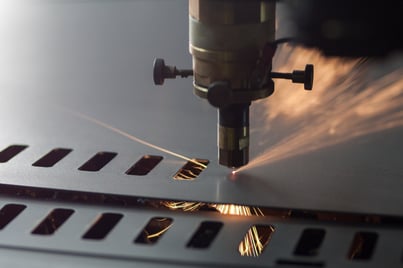 Modern metal fabricators are faced with many unique challenges, including maintaining flexibility while controlling costs with the latest projects. There's a wide variety of equipment available and it can be tricky to stay up-to-date on the latest machine developments and how those developments can help to meet current and future operational needs. As machine technology continues to advance, there may be several ways to solve any one problem within a project, so the challenge is to fully understand each of those solutions and the unique advantages offered to remain competitive.

This week we would like to highlight some of the minor differences between water jet cutting and laser cutting. Continue reading for more information about each cutting process.
Waterjet Cutting Does not Add Heat During the Cutting Process
Water jet cutting is a cold process and does not put any heat into the material while it's being cut. This means that no heat-affected zone is created during the cutting process. This is a very important fact to those in the Aerospace industry, as the waterjet cutting process does not alter the physical state of the material being cut or cause the material to warp from the heat.
Plus, the lack of a heat-affected zone helps sheet metal fabricators as well. The elimination of a heat affected zone means the process can go straight from the waterjet to threading or welding operations without the need to remove any heat-affected material. This ultimately helps to reduce labor and provide a quality product with speed and efficiency. And because water jet cutting is such a clean cut, the need for grinding or sanding around the edges is unnecessary. This diminishes costs, and the easy automation of a water jet cutting machine mean prototypes and high production can be utilized.

Laser Cutting Leaves Less Waste
Laser cutting requires less clean up than you may have assumed— of course, a small amount of waste is produced in the form of dust, which can be removed quickly by vacuuming or a filtering process. Waterjet cutting, by comparison, requires quite a bit more cleanup because of the abrasives mixed in the water. Abrasive waste requires special disposal because of possible toxicity, which further drives up the cost on your project.
Waterjet Cutting is Not as Precise
Staying competitive in today's market requires high levels of precision. Waterjet cutting and laser cutting are the two most common processes for producing high precision parts. As we mentioned earlier, waterjet machines are capable of producing parts with no heat affected zone, and can process a wide range of materials. Waterjet machines are useful for performing precise cuts with metal, glass, stone, ceramic, plastic and even wood.
On the other hand, lasers can be used to work with sheet metal parts at a fast pace, while offering good capability up to 1-in. thick mild steel. Beyond that, laser cutting is beneficial as it can offer unattended operation and low operating costs.

In the end, waterjet cutting is not quite as precise as laser cutting, with a minimum cut size slit of .02". Because of the high level of force used, thin, small, parts do not fare well and must be handled carefully. Yet, it's important to keep in mind, laser cutting and waterjet cutting are complimentary in some ways, which is why we offer both services here at CAMM Metals.
CAMM Metals | Waterjet Cutting & Laser Cutting Services in CT
With a fleet of varied equipment, CAMM Metals has the experience and capacity required for your water jet or laser cutting needs. Both processes have become more efficient in recent years, yet they remain largely complimentary to one another. Laser is a bit better for cutting thin metal very precisely and quickly, while water jet excels at cutting a wider range of materials with no heat affected zone. Keep this in mind when you're designing your next project. As always, CAMM Metals would be honored to help!