It's a common question metal fabricators are asked: "So what's the difference between ferrous and non-ferrous materials?" Knowing the different materials is important to understand what types of metals are best for your project. Read this blog to learn more about ferrous and non-ferrous metals as well as some of the metals that make up those categories.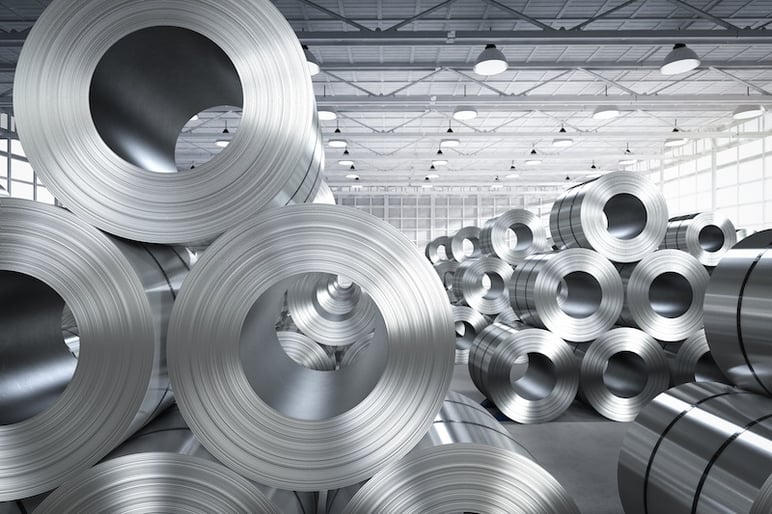 Ferrous Metals
Ferrous metals have greater carbon content and the majority are magnetic which makes them useful for motor and electrical applications. These metals are sought after for their flexible strength and durability. Ferrous metals are also commonly used for construction materials, industrial uses, large-scale piping, automobiles transportation and a lot of everyday tools and utensils. Below is a list ferrous metals used in metal fabrication.
Steel
Steel is one of the most used materials for metal fabricators. Steel has the most versatile options and can be used anywhere from construction to machinery. Steel is a maintainable material known for its strength and sturdiness. Also having recyclable properties without losing its quality making the metal fitting for long-term development.
Carbon Steel
Carbon steel is predominant metal for industrial purposes. This material is easy to work with and is prevalent for fabricators as it can be finished in a number of ways. This means carbon steel can withstand the harsh conditions of industrial environments.
Cast Iron
Cast iron is tough and resistant to wear. It's used in water pipes, machine tools, automobile engines and stoves.
Wrought Iron
Simply, Wrought iron is iron that has been heated and then worked with tools. Wrought iron is highly flexible, meaning it can be heated, and re-heated, and worked into various shapes.
Non-Ferrous Metals
Non-ferrous metals include aluminum, copper, lead, zinc and tin. These types of metals have little to no iron content, allowing for a higher resistance to rust and corrosion. For this reason, non-ferrous metals are commonly used for gutters, liquid pipes, roofing and outdoor items. Lastly these types of metals are non-magnetic, which is important for many electronic and wiring functions. Below is a list non-ferrous metals used in metal fabrication.
Aluminum
Aluminum is popular for metal fabrication because the material is lightweight, which is essential for industries that need metal for projects but can't manage the weight. Industries that often use this lightweight material, for instance, would be that of automotive or aerospace industries. Ultimately, aluminum is lightweight, durable and versatile with good thermal properties.
Copper
Copper is an important material for metal fabrication because of its strength, flexibility and conductivity. Copper is commonly used to help form needed materials such as wires, rods, castings and powder. Copper is also resistant to corrosion in various environments, making it a useful material for industrial projects.
Zinc
Galvanizing metal is the largest use of zinc and is done by immersing the part in molten zinc or by coating it.
Lead
Lead is mainly used for electrical equipment such as cables and batteries. Lead is also used significantly in building construction for both sheet metal and pipes.
Nickel
Nickel is a solid but malleable metal. As a composite, this non-ferrous metal helps increases impact values in low temperature projects. Both nickel and nickel alloys are machinable and are readily welded by gas and arc methods.
CAMM Metals | CT Metal Fabrication Services
At CAMM Metals, fabrication services are the heart of what we do. From sheet metal and plate fabrication to structural members to architectural metal work and weldments, CAMM Metals has the latest technology and skilled employees to provide the quality product you are looking for. Before any work begins, everything we do is engineered in the latest 3D CAD program that helps improve quality and reduce the amount of production time needed. From there, our team of Fabricators, CNC operators and Welders get to work. Whether it's a small sheet metal bracket or large fabrication, 1 piece or 1,000, CAMM Metals is the place thousands of companies have trusted for over 20 years for quality fabricated metal products. We primarily work with steel, aluminum and are experts in fabricating, welding and also finishing stainless steel for both Architectural Metal Fabrication and Commercial products.