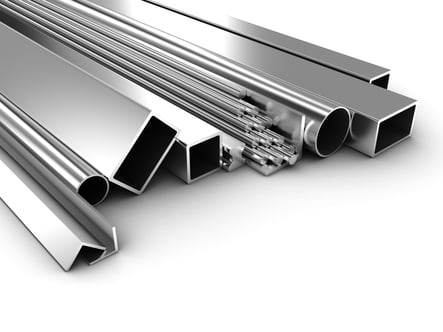 When you're embarking on your next metal fabrication project, it's important to consider which type of steel you will use. Selecting the appropriate type of steel for a metal fabrication project is a critical and less-mentioned decision.

Before you even begin to contemplate between which individual grade of steel you'll choose, you first have to determine what type of steel to use. Typically, the choice is between carbon steel or stainless steel.

Continue reading to learn the primary differences between carbon and stainless steel.

Appearance
If the particular job requires an aesthetic appeal, it's important to consider the appearance of the metal. Frequently, stainless steels with particular finishes are preferred when cosmetic appearance is important to the customer.

Even to a casual observer, carbon steel and stainless steel have a few distinguishing characteristics. Typically, carbon steel appears dull with a matte finish. On the other hand, stainless steel appears to be more glossy and comes in various grades that can increase the chromium in the alloy until the steel finish is as reflective as a mirror.

Though both can be sanded and polished to have a bright, shiny appearance, carbon steel requires a clear coat of paint rather quickly after the polishing process to avoid tarnishing and eventual rust.
Cost Implications
As with any project, cost is an important consideration. Although different grades have varying costs, it's fair to say that stainless steels are often more expensive than carbon steels. This is largely due in part to the fact that stainless steels have additional alloying elements, including chromium and nickel. These additional elements all add up to an increased cost when compared with carbon steels.

Carbon steel, by comparison is mostly composed of relatively affordable iron and carbon elements. So, if you're next fabrication project requires a tight budget, carbon steel is likely the better option.
Properties
Again, it's not fair to make sweeping statements about the differences in mechanical properties between carbon and stainless steels, since there are a variety of different types and grades of each. Stainless steels can be more ductile than carbon steels because they usually have higher amounts of nickel. However, there are very brittle grades of stainless steel as well, such as the martensitic grades. Carbon steels with very low amounts of carbon may not match tensile strengths of some stainless steels due to the alloying elements that many stainless steel grades contain, which increase its strength.
Corrosion Resistance
One of the most often discussed differences between carbon steels and stainless steels is their ability to resist corrosion. Stainless steel often offers more corrosion resistance. Both carbon steels and stainless steels contain iron. Iron oxidizes when it's exposed to the environment, creating rust.

However, stainless steel has added chromium, which helps to make it more corrosion resistant than carbon steels. Here's how it works: the chromium attaches itself to oxygen more easily than iron, creating a chromium oxide layer, which protects the rest of the material from degradation and corrosion. So, if corrosion resistance is important for your project, stainless steel is the way to go.
CAMM Metals | CT Metal Fabricator
While carbon steel and stainless steel are different, one is not necessarily superior to the other. Context matters. Each material has its unique advantages and disadvantages-- the key is matching the steel to the job requirements.
It's crucial to do your research when choosing a metal fabrication, as not all companies are capable of completing the same quality of work. CAMM Metals has years of experience, honing our skills across the board to deliver a quality product and measurable bottom line value to our customers.