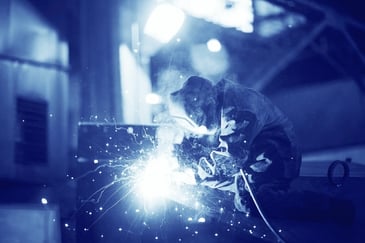 Working in the heavy industry, especially an area that requires some kind of metal fabrication means the pursuit of two characteristics; reliability and efficiency. When you have a product or component that needs to be manufactured for your business, you need to make sure that that it is created in a way that is both cost-effective, and easily repeatable.
These days, there are a lot of questions about where to go in order to get your parts fabricated. Of course, one of the most popular answers from a cost perspective has been going overseas. But for people that are willing to look closer to home, there are some real advantages to engaging the services of a local metal fabricator that go beyond just patriotism, or supporting the local economy.
Visit the Facility
Proximity is the single biggest advantage that you get with deciding to partner with a local metal fabricator. It means that if you want to make sure the facilities are up to your satisfaction, it's right in the area, rather than requiring a coordinated, expensive and time-consuming trip to another part of the world in order to tour the facilities and ensure they are to your satisfaction.
This also means that there aren't issues with having to take into consideration differences in time zones. If you have a question that you'd like to ask, and it's 2:00 pm in the afternoon for you, it's also 2:00 pm for your local metal fabrication company; they're not working with a skeleton crew on the night shift with no management to take questions from western clients.
Establish a Relationship
A good business relationship is the cornerstone of many profitable, long term ventures, and forming that kind of bond is much easier for people that have more in common. When you have a local metal fabrication company that has people that eat at the same restaurants, love the same parks, and know the local business and its needs just as well as you do, that saves a lot of time. There are also no issues with having communication difficulties due to a difference in native languages.
A local business means that meetings are easier to conduct and coordinate, whether by phone, or an actual face-to-face meeting, which is often more productive and easier to do on a regular basis. It means you'll be able to go into much greater detail about plans and business goals, and when any sudden adjustments need to be made, or an unexpected problem comes up, solving it together is much easier to do.
Peace of Mind & Local Pride
And of course, from a patriotic point of view, sharing your business activities with a local metal fabricator does a lot of good things for you and your local economy. Looking at prototypes doesn't require a visit or a shipment to some other part of the country or world, but you also get the comfort of knowing that qualified, hardworking Americans are getting paid to do what they do best thanks to your choice.
This also means you know that your products are being made and serviced with the same high, exacting American standards that you follow. In the same way that you look out for your employees and make sure they have safe, productive working conditions with fair wages, you are getting that same reassurance with your products and people who make them, since they are coming from a local metal fabrication company.
All you have to do make sure you find the right partner is be clear about your goals and what materials you want to work with. Then line that up with the local metal fabricator that has the experience and the capabilities to do what you need. Done right, this can be a fruitful, long term business partnership.
CAMM Metals | CT Metal Fabrication Company

It's crucial to do your research when choosing a metal fabrication, as not all companies are capable of completing the same quality of work. CAMM Metals has years of experience, honing our skills across the board to deliver a quality product and measurable bottom line value to our customers.