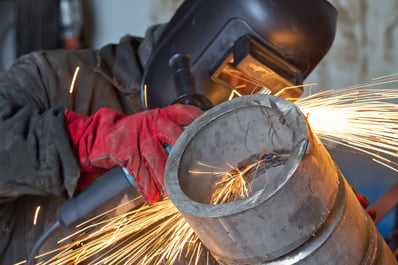 In many cases, engineers and designers often overlook the benefits of stainless steel, mainly due to its higher cost. However, the benefits associated with stainless steel will often justify the initial investment, as the material can offer the greatest value over the life of a fabrication project.
What Exactly is Stainless Steel?
According to the British Stainless Steel Association, stainless steel is an alloy of iron with a minimum of 10.5% chromium." Chromium produces a thin layer of oxide on the surface of the steel, which is known as the "passive layer." The chromium present in the steel is what allows the steel to be corrosion-resistant, creating a durable and invisible surface.
What are the Benefits of Stainless Steel for Fabrication Projects?

Stainless steel is not free from disadvantages: there's a high initial cost, the metal must be handled with high-quality equipment, and it's easy to run into difficulties with welding; however, the benefits far outweighs he disadvantages when you're working with this dependable metal. .Depending on your industry, there can be many unique benefits of stainless steel for metal fabrication projects, including (but not limited to):
Easy to Work With
Using stainless steel in a fabrication project is only a challenge if your selected fabricator is working with outdated machinery. CAMM metals utilizes top-of-the-line, modern equipment, which makes it easy to cut, weld, and everything in-between.
Corrosion Resistance
One of the primary selling points of stainless steel is its inherent ability fight rust. If you are interested in selling rust-free products, stainless steel may be a natural choice. Stainless steel is resistant to corrosion, which inevitably impacts the overall value and long-term investment. Chromium allows the steel to remain resistant to corrosion while different levels of alloy impact corrosion in different settings. For use in wet applications, lower grades of alloy typically work best. However, for use around acid and alkaline solutions, a higher alloy grade is a better option.
Great for Use in Hygienic Products
As we've alluded to, stainless steel is very easy to keep clean, which makes it a great choice for applications with high standards for sanitary conditions, such as commercial kitchens, pharmaceutical research or food and beverage processing.
Maintenance Free
The long-term value of working with stainless steel should not be overlooked, as it outweighs the initial investment that often turns the uninformed away. The life cycle cost should always be a part of the decision making process. Choosing a maintenance free product like stainless steel allows you to focus on a great process and product.
Temperature Resistance
Stainless steel is well-known for its ability to withstand heat, which makes it well suited for use in applications that may be subjected to more extreme temperatures like boilers, valves, feed water heaters and other heat exchangers.
Sustainability
Stainless steel is recyclable. IF your company, like many in the modern world, are concerned about the environmental impact of your manufacturing efforts and products, using stainless steel is a great way to mitigate some of the impact.
CAMM Metals | CT Metal Fabrication Company



It's crucial to do your research when choosing a metal fabrication, as not all companies are capable of completing the same quality of work. CAMM Metals has years of experience, honing our skills across the board to deliver a quality product and measurable bottom line value to our customers. We excel in all types of metal fabrication services and would be honored to use stainless steel in your products if that is in line with your request. As a full-service metal fabricator, we can work with your designed stainless-steel project from start to finish and do it without the need to outsource any of the work, saving you time and money with fewer headaches.