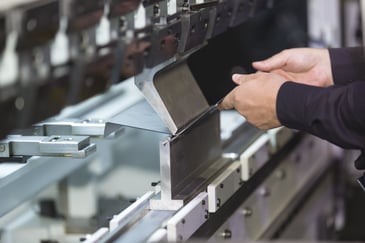 Establishing and growing successful manufacturing partnerships can be a challenge, especially when you're on the hunt for a metal fabrication partner. Some companies prioritize bulk production runs at a lower cost, while others focus on smaller business with more options for customization.
Simply put, it's a wast of customer time and money if the partnership isn't mutually beneficial.
This post provides a brief overview of several red flags, indicating the need to be cautious when researching a metal fabrication partner. At CAMM metals, you can always request a quote and we're happy to guide you through both your project and the manufacturing process with you.
The Welders Aren't AWS Certified
An AWS certified company offers customers the assurance of an above-average fabricator, showing that the company is committed to meeting a certain standard of quality, which results in fewer non-conformance issues for the customer. The American Welding Society monitors the certifications, so be sure to ask if your fabrication partner has made a commitment to employ welders with the certification. That being said, this need not be a deal-breaker.
Management Isn't Up to Snuff
Naturally, you will seek to discover more about the company's capabilities, specialities, and general culture; however, it's also important to take a deep dive and learn more about their management process. After all, an effective partnership doesn't stop with the quality of the work— if you can't work wit hate people on the team, the work can suffer.
Here are some important questions that help to gauge how healthy the company is from a management perspective:
What is the average tenure of employees at the shop?
What are the company's core values?
How do they approach dissatisfied clients?
Though it may never happen, it's possible that you may end up in a dispute with your fabrication partner in the future, so it's important to understand how the company handles conflicts. This should make an impact on your decision to work with them at the outset.
Organizational leadership sets the standard for employee performance and company culture, as employees look to leaders to set examples and provide guidance on achieving company goals.
When employees understand the long-term vision, are clued into planning, and believe in leadership, great things can happen.
Multiple Negative Reviews in a Row
While some may disagree, negative reviews are a telltale sign that there are problems with a company's business processes. Remember, it takes a disappointing experience to inspire someone to take the time to write a negative review. Thanks to the rise in prominence of social media, there is a significant difference in the way that people research metal fabrication partners.
While one or two negative reviews may show you that the company is fallible like anyone else, a streak of a few negative reviews in a row is a warning sign. Remember that the reputation of your organization is resting on the quality of product provided by your metal fabrication partner. Take your time and research to see if the company is well-reviewed.
Their RFQ Process Isn't Detailed
The details that vendors seek in a quote are factors that have a definitive impact on pricing. Whether its the characteristics of the part isle and the quantify needed or the material and its source— all of these things affect how a part will be produced and at what cost.

As you may know, there are occasions when the buyer who completes the cutting quote is a third party, not the manufacturer of the engineer who designed the part. Sometimes the buyer is a purchasing agent who is unaware of all the design details and the nuances of the part specifications. Ideally, an RFQ helps any buyer gather the information necessary to guide them through the process. If the company that you are looking into doesn't have a detailed RFQ process, it's a big concern.
CAMM Metals | CT Metal Fabrication Company

It's crucial to do your research when choosing a metal fabrication, as not all companies are capable of completing the same quality of work. CAMM Metals has years of experience, honing our skills across the board to deliver a quality product and measurable bottom line value to our customers.