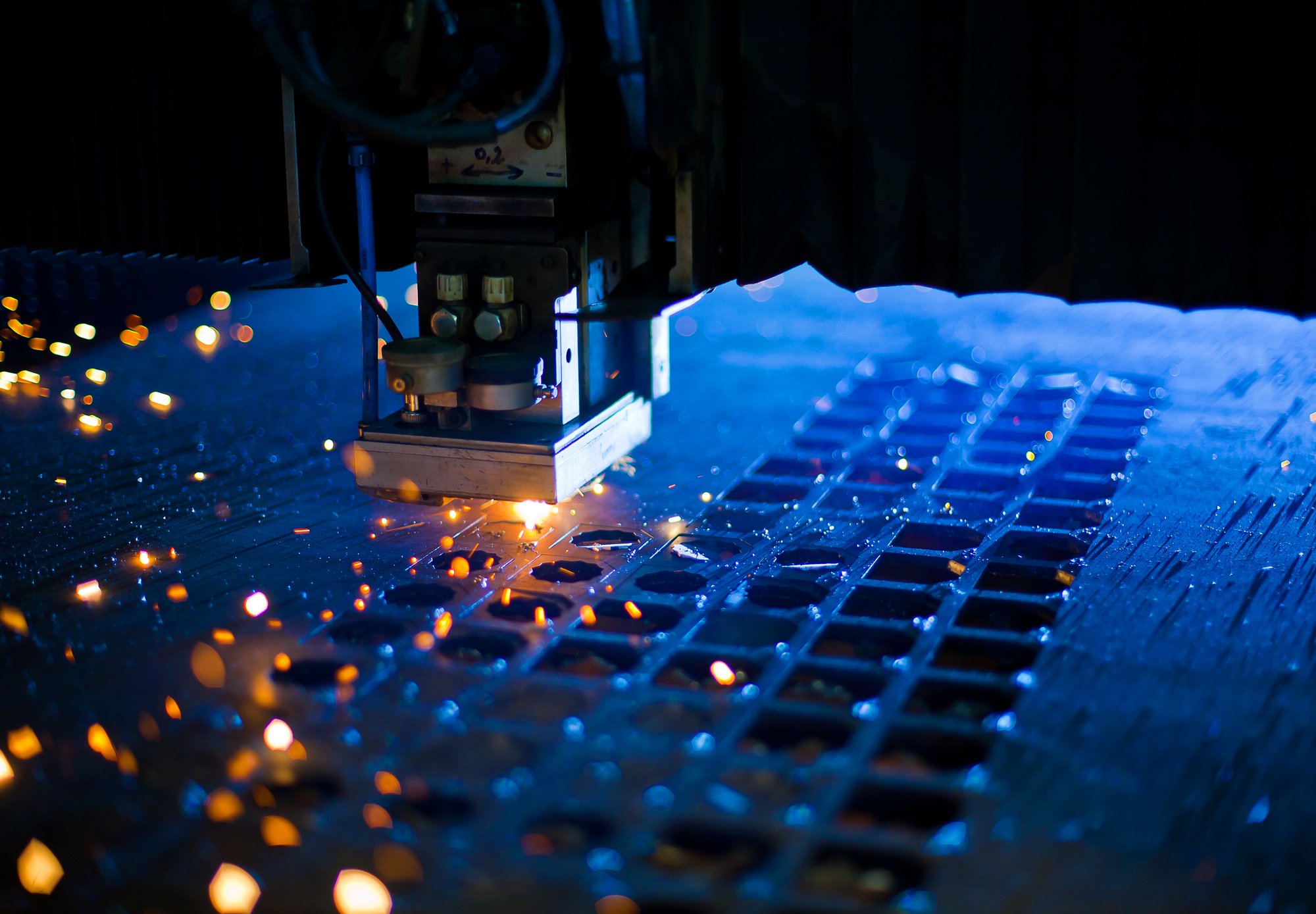 Laser cut parts are valuable for many industries, and the pieces are critical aspects of machinery in sectors ranging from aerospace to the medical field. However, many companies are simply unaware that their laser cutting costs, despite the production, could be dramatically reduced by simple alternate choices and improved communication with their laser cutting partner.

Laser cutting is a unique method of piercing material with a laser beam to melt or destroy the material in a precise line, resulting in a clean finish. Many companies, small businesses, and industrial organizations opt for laser cutting because it produces barely perceptible edge effects from the cutting, unlike many other methods.
Time is a critical factor in any project, but the overall turnaround of laser cutting projects is very rapid. Versatility in size and metal material is yet another benefit of laser cutting machinery.
Properly preparing your company's design files, material choices and course can reduce the price of this incredible technology. Several components in laser cutting, like time, make the production more speedy and effective. Check out our top tips to diminish your laser cutting costs in time for your next project.
Outsource Laser Cutting to Professionals
When a project demands a precise cut that only laser cutting can accomplish, a do-it-yourself direction may be the first idea that pops into some people's minds. Yet, on-site laser cutting involves expensive investments in equipment, thorough training and inconvenient maintenance. Rather than mastering laser cutting and facing these obstacles, consider removing the burden of these complications by outsourcing your project to experienced companies.
Simply put, proper laser cutting equipment is substantial in size and cost. Purchasing laser cutting machinery, depending on the size and nature of your company, will likely not be reused enough to cover the costs. Using a specialized outside team to perform the work saves space, time and money.
Laser cutting machinery also requires regular upkeep, which raises costs even higher. Safety for your work space and the condition of the products require this maintenance, but the drawbacks of further expense, repairs and effort point to another solution — outsourcing. Enlisting the help of workers skilled in this area will expedite your project and reduce the cost. They are familiar with the best practices in laser cutting, already knowledgeable about this task and able to maintain the equipment elsewhere.
Design a Prototype
If you're new to laser cutting and submitting your first designs, it may be challenging to picture what the end product will look like. Yet, before you place a small order take time to examine the design and see if there's a simpler and more cost-effective option available. Construct a prototype of your design digitally or on paper. The appearance of your design will then be easier to modify or simplify once you have created a mock-up.
Ordering a large quantity of laser cut product without considering the desired outcome can ultimately lead to disappointment and increased costs when you have to place another order to correct mistakes you hadn't considered.
Performing this preliminary test increases confidence in the result and reduces any costs working out kinks that are caught early. This cost-effective preparation is wise, but it is simply one step closer to the high-quality outcome of laser cutting technology.
Review Sheet Metal Type and Thickness
Laser cutting is useful for cutting a wide variety of materials including mild steel, stainless steel, aluminum, copper and brass. The thickness of the metal you require for your project can alter the edge quality of the cuts. Most importantly, the thickness of the metal determines how quickly the beam can cut. Each metal has an optimal cutting thickness that displays the most stable and untainted cut possible with minimal arming or variation.
If you opt for a thicker, more dense metal, the time spent bringing your design to life will increase. If that metal is necessary for your project, a thick metal paired with a simple design may balance out the cost.
Essentially, it's important to prioritize the factors that are most important to your company and the productivity of your task. Balance the thickness of the metal with the other aspects and the goal of your project.
The materials take up a large amount of the cost to buyers compared to the previously mentioned tips. Consider which metal functions best for your purposes and keep in mind its place in the cost calculation.
Place a Smaller Order To Start
After you have decided on a simplified design and have plans for the material, a small trial run of the exact supplies and design can help to reduce extra expenses before placing a more substantial order. If certain aspects of the design give you pause or you would prefer to test out multiple metals, smaller orders will offer the opportunity to test several kinda of metal and see the accurate implementation of your design.
Beyond that, any issues that arise in a small trial order will cost less than purchasing several large sheets of metal and realizing your specifications should have been different.
Beginning with a limited order will allow you to witness the difference the kerf makes on your product, depending on the kind of metal used. Fiber laser systems expertly handle metals, like stainless steel, aluminum, and others. Your expectations should not go without testing, though. Consider how you would like the end pieces to function and appear — then compare the first round of products from your small order with the necessary components.
Final Thoughts
Reducing production time and improving intentionality in design files will ultimately cut down the cost of your custom-cut pieces. Adjusting the orientation of a design if multiple pieces are manufactured will also decrease wasted metal and extra time. Establish confidence through preliminary tests of your design to place your order knowing it will be the proper material with clean edges. Overall, your project should bee finished quicker than ever before at a lower price, if you can apply these few tips.
CAMM Metals | Laser Cutting Services in Connecticut
CAMM Metals is proud to offer laser cutting services for your next fabrication product. We can fabricate any order, whether it includes prototypes, components, or final assemblies. We adhere to the belief that high quality results can only be achieved through the use of high quality equipment. Our technicians operate the Prima Power PLATINO® Fiber 2D laser cutting machine, offering the fastest cutting speeds on the market! Laser cutting offers the ability to cut through a wide variety of materials and thicknesses at high speeds, producing extremely precise and accurate cuts.