Stainless steel fabrication is a complicated process. It's important that it's done right in order to create quality products. There are many mistakes that a steel fabricator could make, both on a production level and on a larger scale. Read below to learn about the common mistakes that you should avoid with stainless steel fabrication.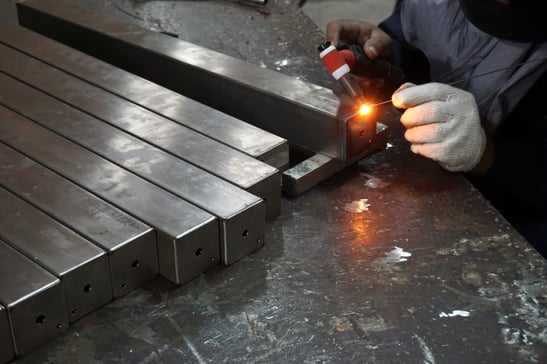 Production Level Mistakes
Scratches
Avoiding scratches is important to ensuring a quality product. Scratches can form crevices on the steel's surface and cause corrosion over time. These crevices can also trap in contaminants. In order to make sure that your material doesn't get scratched, give it a clean finish and mechanical cleaning.
Distortion
Compared to carbon steel, stainless steel has a high coefficient of thermal expansion as well as low thermal conductivity. This causes stainless steel to expand rapidly when it's heated during the welding process. This quick expansion can cause the steel to become distorted. In order to prevent this distortion, use the lowest interpass temperatures possible that can still ensure good welding quality. Controlled track welding is also a good technique to prevent distortion of the material.
Improper Cleaning
It's important to clean your stainless steel properly to ensure that there is no surface contamination. Wire brushing should only be done with stainless steel brushes that haven't been used on any other surface. Clean abrasive disks and clean flapper wheels can be used to remote heat tint and minor surface imperfections. Blasting the steel with stainless steel shot or iron-free sand like garnet is another popular technique. You can also use chemical cleaning or passivation, in which stainless steel is treated with dilute nitric acid solutions or pastes. In order to ensure a good finished product, your stainless steel should be cleaned properly.
Improper Installation or Storage
It's important to wait until construction is finished before installing stainless steel to prevent damage. When the product is being stored, it must be stored and handled carefully. It is helpful to use protective coating films before and during the installation process. Protecting your finished product is important because its quality should remain the same after installation.
Big Picture Mistakes
Making Assumptions
When dealing with a customer, it's important to ask as many questions as possible. Never make any assumptions about what the customer wants the product to end up like. Making assumptions can lead to a product that is different than what the customer asked for. In order to ensure the customer gets exactly what he wants, ask as many questions as possible.
Varying Quality
Every product you produce should be of the highest quality. The most important aspect of ensuring high quality is high attention to detail. From production to operations, every aspect of creation of your products should be carefully thought out. Attention to detail is crucial in producing high quality products every time.
Bad Scheduling
It's important to consider how many projects you're taking on at once. With each project, you must set out a time table to understand how long the entire process can take. If your time is not carefully planned out, you could fall behind and customers may end up unhappy with your efficiency. It's important to properly schedule production so that every customer's order is completed on time and is produced at the highest quality possible.
Being Inflexible With Technique
It's very common in metal fabrication to favor a certain technique. However, it's important to be flexible. Certain techniques might be easier or more familiar to you, but if they are not the right techniques for the job, don't use them. With every job you take on, you should make sure that you're using the best technique that will ensure the best quality.
CAMM Metals | CT Metal Fabrication Company



It's crucial to do your research when choosing a metal fabrication, as not all companies are capable of completing the same quality of work. CAMM Metals has years of experience, honing our skills across the board to deliver a quality product and measurable bottom line value to our customers.