Robotic welding is a great way to create better quality welds at a faster rate than traditional welding. Over time, it can even reduce the costs of welding operations. Shops with high volume and low variation in their welding processes will benefit greatly from automation. Smaller shops with more variation in their projects can also benefit from robotic welding, but extra planning will be required. Both types of shops can use robotic welding to improve efficiency. In order to optimize your robotic welding processes, there are a few things you should take into consideration. We've compiled a list of some of the most important best practices to ensure that your robotic welding processes operate as smoothly as possible.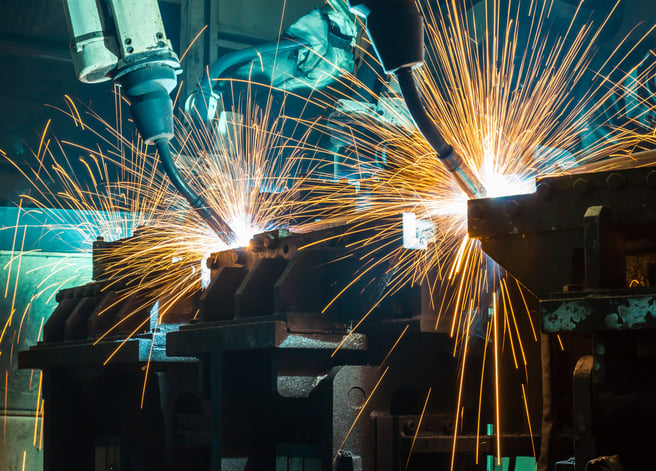 Produce Uniform Parts Consistently
Robotic welding systems rely on consistent parts in order to produce consistent results. When your parts have gaps, poor fit-up, or poor joint access, it will negatively impact robotic welding systems. For optimal throughput, parts need to enter and leave the cell at a quick, steady rate. Parts will need to be delivered faster than traditional welding. Shops will need to assess the activities leading up to a part entering the cell in order to ensure that the supply of parts matches the robot's cycle time. If these activities do not match the robot's cycle time, you will need to consider changing other parts of the fabrication and completion processes to ensure that the speeds match the robot's welding speed.
Avoid Excessive Consumable Changeover
Compared to human operators, robots can withstand greater arc-on time and heat. For this reason, robotic welding systems operate at higher amperages and longer duty cycles than semiautomatic welding operations. These features are great for productivity, but the additional heat and welding duration can be harsh on consumables such as nozzles, contact tips, and gas diffusers. For this reason, you'll need to take steps to avoid excessive consumable changeover.
To avoid this issue, be sure to install consumables correctly and maintain tight connections throughout the welding process. Loose connections can increase electrical resistance, causing consumables to generate additional heat. This additional heat can shorten their lifespan or cause them to perform poorly. You should also follow the manufacturer's instructions for consumable installation to ensure that everything was installed properly. Monitor these consumables and check them periodically during routine pauses in welding, as they can loosen throughout a shift. You should also be sure to install the robotic MIG gun liner properly, as it will help prevent downtime needed to address wire feeding issues or correct burn back.
Preventative Maintenance (PM) Programs
Preventative maintenance should cover every aspect of the welding system, from the robot to the contact tip. These PM programs can prevent unscheduled downtime, low-quality parts, costly repairs, and equipment replacements. Companies will need to assess their PM needs on an individual basis. Generally, companies that weld thick materials or have applications with long, continuous welds can benefit from more frequent PM activities. These actions will allow you to rework for quality issues that are more costly than applications producing multiple smaller parts. There are a few different PM activities that can be beneficial to perform during routine pauses such as cleaning the robot and fixturing to prevent a buildup of dirt, debris, and anti-spatter compound. Checking for tight consumable connections and confirming the tool center point or TCP is important as well. You should also check for power cable wear and be sure to replace it as needed.
Peripherals and Robotic MIG Gun Extras
Adding peripherals and robotic MIG gun extras creates an added cost, but it's worth it to maximize welding performance. A nozzle cleaning station, which cleans the nozzle of dirt, debris, and spatter during pauses will help ensure consistent shielding gas coverage. It can also help reduce weld defects and extend the life of consumables, minimizing the downtime and expense of changeover. Anti-spatter sprayers can also be valuable, but it's important to locate it in the appropriate position. It should completely coat the inside of the nozzle, with the outside covered within a quarter of an inch from the bottom of the nozzle.
A wire cutter will cut the welding wire to a specific length, removing inconsistencies at the end of the process. This tool will provide a more reliable and smoother arc as well as better seam tracking for robots featuring that technology. Touch-sensing software allows the robot to store position data and send electrical impulses back to the controller once it's located the joint. For applications with variations in parts, it helps maintain weld consistency. This approach is more cost-effective than investing in new tooling and fixturing to hold parts in a precise location.
Maintain TCP
The tool center point, or TCP, is the focal point of the robotic MIG gun and its relationship with the position of the welding wire in the joint. It's important to maintain the TCP to allow the robot to produce repeatable and consistent welds. Typically, TCP issues occur after a collision, where the neck of the robotic MIG gun can bend. To fix these issues, you should employ a peripheral known as a neck inspection tool to bend it back. In order to maintain the TCP, be sure to install the robotic MIG gun neck properly. Make sure it's fully seated; otherwise it can extend too far, compromising the TCP. You should also program the robot for a specific TCP and check to verify proper positioning to prevent TCP issues.
CAMM Metals | CT Robotic Welding Company
It's crucial to do your research when choosing a metal fabrication, as not all companies are capable of completing the same quality of work. CAMM Metals has years of experience, honing our skills across the board to deliver a quality product and measurable bottom line value to our customers.