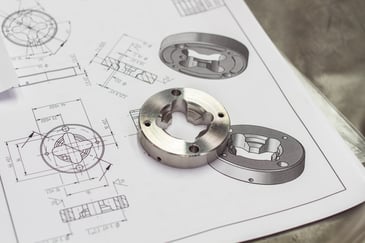 Finding the right metal fabrication partner can be tricky due to a wide variety of factors. Often, metal fabrication supply partners are selected based solely on their ability to provide a low cost solution. While cost remains an important factor, it's important to consider the fabrication company's overall capabilities, experience, and quality. This blog post aims to help procurement professionals develop useful questions to ask potential metal fabrication companies.
A Brief Overview
The metal fabrication industry has undergone a transformation within the last decade. By definition, metal fabrication is the creation of metal structures by cutting, bending, and assembling disparate metal pieces. Metal fabrication capabilities will inevitably differ from company to company.

Some companies focus on offering larger production runs at a lower cost, while others concentrate their efforts on low volume projects with greater customization capabilities. If you're a procurement professional looking for a suitable company to work with, it's important that you begin to gauge the services that prospective companies will offer. The right metal fabrication company will likely offer services like cutting, stamping, forming, bending, assembling, etc.
What Are Their Capabilities?
When considering the capabilities of a potential partner, it's important that a procurement professional analyze and evaluate every offering that partner provides or has the capacity to provide. Essentially, it's important that you consider: "is this potential supply partner capable to meet all of my business needs without the risk of problems during prototype runs or production?" Here are a few common, yet extremely important questions to ask regarding the capabilities of any metal fabrication company that is being considered to follow through with your designs.
What Materials Does the Company Work With?
Of course, there's a wide variety of different materials that can be fabricated, most memorably steel and aluminum variants. Certain companies specialize in the different material types so it's important to know not just what your potential supply base is capable of, but also what each supplier is known for and specializes in. Some of the most common raw materials used by metal fabrication companies include plate metal, formed or expanded metal, welding wire or rod, casting, etc.
Do They Have Any Design Capabilities?
There are many companies who can take a prototype through production, however, what if you need some design services? Of course, not all metal fabrication companies offer design services or provide the map one of their core competencies. Regardless of whether you need design services, it's important to understand whether the company has the capability to follow through in the event that you do need them.

Ask the company in consideration whether they have the ability to work based on a drawing (digital or printed) as well as whether they can translate drawings to shop drawings. Are they capable of starting from scratch without the help of an initial design provided? Getting the answers to these questions eases communications with supply partners throughout the entire process.
What Type of Experience Does the Company Have?
Not everyone can fabricate metal components or assemblies. Experience is essential both on the individual and company level. A procurement professional must be able to rest assured that the potential metal fabrication supply partner has enough experience to avoid costly mistakes. Ask potential partners about their knowledge as it relates to industry codes and regulations. Ask about similar projects they have completed and parts they have fabricated. Finally, do not hesitate to seek references from past customers. A reputable metal fabrication company will have plenty of references that are willing to speak on their behalf.
CAMM Metals | CT Metal Fabrication Company

It's crucial to do your research when choosing a metal fabrication, as not all companies are capable of completing the same quality of work. CAMM Metals has years of experience, honing our skills across the board to deliver a quality product and measurable bottom line value to our customers.